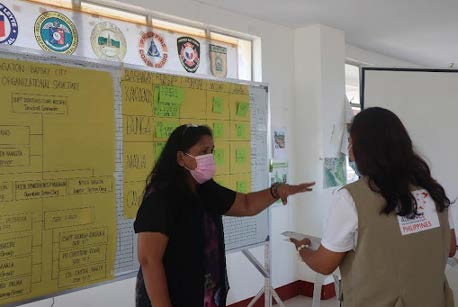 BAYBAY CITY, LEYTE –A strong tropical depression Agaton (Megi) hit the Visayas Region last April 10, 2022,  where people are still dealing with the damage from Typhoon Odette (Rai). Tropical Storm Agaton (Megi) caused intense rain, flooding, and landslides that affected several communities in Baybay City, Leyte as the storm brought four months of rain in just three days. A-PAD PH quickly responded through a donation drive to help the survivors of this deadly storm.
A-PAD PH Human Resource Network Eastern Visayas visited the Baybay City Emergency Response Unit (BERU) on April 13, 2022 to gather initial on-theground information and assess the situation in the area. The volunteers presented their initial assessment during the A-PAD PH National Capacity Building Training and highlighted the immediate need of the community, which is to have a source of clean drinking water. A call for donation was immediately conducted to address their need. Albayanihan, a partner volunteer group based in Albay, pledged to donate ten (10) water filter buckets.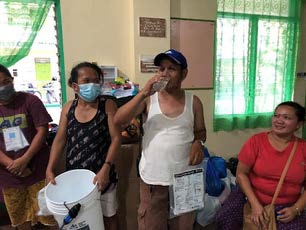 On April 23, 2022, a team of A-PAD PH and HRN volunteers went to Baybay City to distribute 20 water filter buckets. The team had coordinated with Baybay CDRRMO before heading to the evacuation centers. Ms. Mariz Cano of Incident Management Team-PIO also identified the immediate need for Mental Health and Psychosocial Support (MHPSS) intervention for the families who have lost their loved ones during the landslide.
After the courtesy visit, the team proceeded with the relief distribution in Baybay City Senior High School, where 164 families from Barangay Kantagnos were staying. The team also gave ten (10) water filters to the Baybay City National High School, where families from Barangay Mailhi were currently staying. While two (2) water buckets were provided to the Bunga Farmers Association in Barangay Bunga. HRN EV Volunteers led the demonstration of these water filters to the community leaders and camp managers. The beneficiaries and the President of the Farmer's Association expressed their gratitude for providing them with these water filters and hope to receive additional filters for the community.
The Mines and Geosciences Bureau and Baybay CDRRMO declared Barangays Kantagnos and Mailhi to be landslide danger zones and residents were no longer allowed to reside in these areas. Baybay City LGU is now looking for a relocation site for these affected communities. Aside from drinking water, evacuees still need portalets, drums for water storage in the comfort rooms, ready-to eat food, hygiene kits, cleaning materials, undergarments for children, storage boxes, and cash.