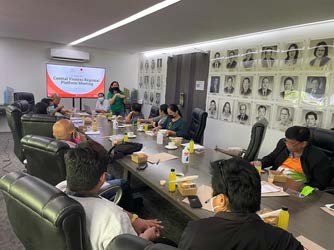 ILOCOS NORTE –On April 5, the Ilocos Regional Platform (RP) partners convened at NSCC Plaza, Caoayan, Ilocos Sur after 2 years of hiatus of operations in the region.
The partners from NWU, NSCC, OCD, OCD Region 1, PIA Vigan, CDRRMC Vigan, PDRRMC Ilocos Norte and Ilocos Sur, ICRED, and CDRRMC Laoag Training and Regional Medical Center attended the meeting to discuss building multi stakeholder collaboration towards an effective emergency, search and rescue initiative in the Ilocos Region. Mariano Marcos Memorial Hospital and Medical Center and Ilocos Training and Regional Medical Center were also invited to talk about their experience and learnings during the pandemic and their response to disasters.
Meanwhile, the Visayas Regional Platform held its RP Meeting on April 27, 2022, at the CCCI Conference Room in Cebu City. RCBM, UCLM, PhilExport Cebu, CVISNet, CCCI, SNAF, Cebu CDRRMO, and Optima Typographics attended this meeting. They shared their organization's DRRM initiatives in recent months. Also, it was opened during the meeting to utilize regional collaboration, partnership, and effort by expanding the Terms of Reference (TOR) of the Central Visayas Platform to encourage new organizations to join the RP. Before the end of the meeting, the members of the CV RP agreed to: (1) shift the paradigm from catastrophe response to disaster preparedness; (2) recalibrate the RPs work for a better and larger impact based on the strengths of particular organizations; (3) form a volunteer group under the A-PAD RP in the Central Visayas and capacitate and strengthen volunteers in the different regions. Lastly, Mr. Lito Aquino expressed his gratitude and appreciation to the members of the RP for their time in attending the meeting. He also added that the presence of the Regional Platform allows them to reduce and lessen the impact of disasters to the most vulnerable sectors of society.
Both RPs scheduled their next meetings toconvene for more updates and action planning.