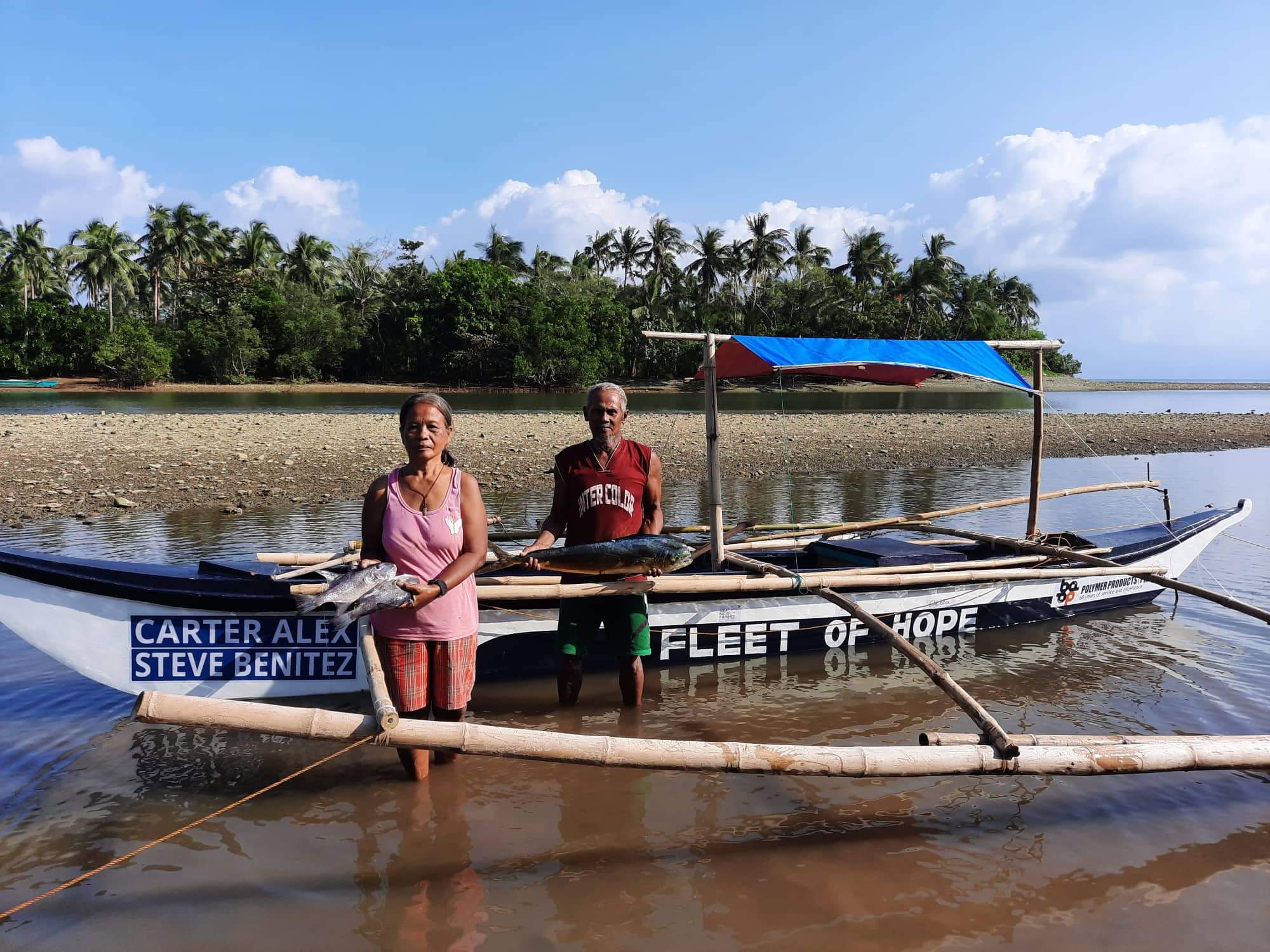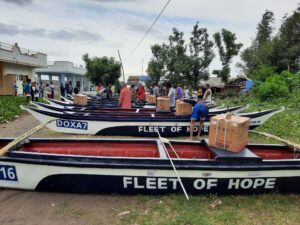 [Super Typhoon Goni/A-PAD Philippines] – "Now more than ever, our fishermen and coastal families need our help. We want to go beyond relief response, and work towards building back livelihoods and their way of life," said Carlo Buenaflor, co-founder of Fleet of Hope and Que Rica.
In the aftermath of the worlds strongest typhoon of the year 2020, A-PAD PH and Que Rica teamed up for a project called Fleet of Hope, a livelihood recovery and economic rehabilitation initiative. The project received much support from the local business community and partner organizations allowing it to surpass its target of raising 100 units of motorized fishing boats. Since the program started in November 2020, A-PAD PH and Que Rica have organized 3 awarding ceremonies where a total of 50 fishing boats were handed over to beneficiaries in the provinces of Albay (24) and Camarines Sur (26). Seventy more boats are lined up for distribution in the next two months. 
The beneficiaries of the project are selected in close collaboration with Tindog Bikol, a team of volunteers committed to help Bicolano fishers recover from devastating effects of the recent typhoons. Fleet of Hope beneficiaries belong to a select group – handline tuna fishers of Lagonoy Gulf. Most of them are members of the Gulf of Lagonoy Tuna Fisher's Federation, Inc. (GLTFFI). By partnering with Tindog and GLTFFI, Fleet of Hope aligns with sustainable tuna fishing and advocacy against illegal and unregulated commercial fishing .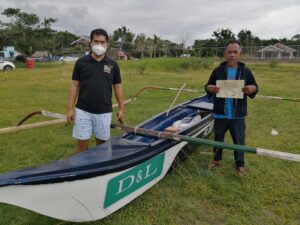 While the boats are given free of charge to deserving fishers, the beneficiaries sign a Memorandum of Understanding (MOU) with Fleet of Hope representatives. Some important provisions of the MOU are: the boats cannot be sold, rented or transferred to another person; the beneficiary should be compliant to all government policies and regulations regarding fishing and boat registration; the beneficiary will participate in activities for the public good such as relief delivery missions, maritime search and rescue, and sustainable fishing advocacy. Moreover, as survivors of Super Typhoon Goni themselves and past disasters, A-PAD PH encourages the beneficiaries to undertake preparedness measures to secure their families and safeguard their boats and fishing gears from disaster risks. 
The boat design and specification is suitable for handline tuna fishing at the Lagonoy Gulf. Except for the outriggers, the boat awarded to them comes with a 7.5 HP gasoline engine and with complete accessories. The 7-meter long boat is made of fiberglass and reinforced with wood frame for stronger engine base and floor support. With proper care and maintenance, the fiberglass boats can last more than 10 years making this a more viable and sustainable option than wooden boats. 
"We Bicolanos are used to the yearly typhoons, but somehow we always find a way to overcome the devastation and challenges, by helping each other. And the sooner we resume our livelihood activities, the better for our families and the quicker our communities can bounce back to normalcy. Fleet of Hope aims to do just that – help fishers catch fish again by replacing their damaged or lost boats with brand new ones," said Mr. Gilbert Albero, Vice President of A-PAD PH during the awarding motorized fishing boats to 26 fishers in San Jose, Camarines Sur held last February 26, 2021.